Posted by Ethan Barron on Saturday, June 27th, 2015
I thought about making this post an announcement about me deciding not to blog anymore for the foreseeable future.  Obviously this blog has been dormant for some time now.  I've consciously prioritized coaching and fathering over this so I've had little regrets.  However, I mentioned this to my wife and she metaphorically slapped me in the face with the look she gave me.  Very few words had to accompany the look she gave me.
Let me translate her look.  Ultimately, 99% of the decisions I make in this world are merely me trying to be the person that I want Echo and Tenacious to grow up to be.  My wife's look very succinctly reminded me of this.  What would I say if Echo set out on a task and tapped out in the middle? Enough said.
So on to one Curtis Antonius Yancy III.
If you asked, and we both gave you an honest answer, Curtis and I would admit that neither of us actually expected him to ever suit up for Tufts Track and Field.  Fast forward all these years and Curtis has been an athlete, a school record holder, a captain, a national competitor and a coach for the program.  I'd say both our expectations were exceeded.
Why didn't we expect Curtis to throw for Tufts?  Curtis came to Tufts to play football.  I didn't recruit him.  One of the FB coaches gave me his email and I reached out.  This is entirety of what I got back:
"My best marks so far are actually 161.5 and 49.5. I am hoping for academics to go well for me so that I can continue throwing. Does Tufts do all of the throwing events?"
Verbatim.  No joke.  There wasn't a heading like "Coach Barron" or even a signature.  And the PR's weren't even in the metric or imperial system.
After a few more odd exchanges, Curtis started using his Tufts email account and I get this gem.
"hey it's Curtis. I placed 4th in discus last weekend with a throw of 157'8."
Again, the full email and a full quote.  Hence the quotations.  What did I learn about Curtis?  First, he was a man who couldn't be constrained by things like capital letters.  Capitals be damned.  Secondly, he'd mastered the imperial systems of weights and measures in a matter of weeks.  Impressive.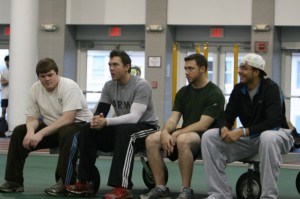 Over the next five years, I would continue to be impressed by Curtis, but for very different reasons.  Curtis had a fire, an infectious fire.  Not only did this drive fuel him to set school records and qualify for multiple national championships, but it motivated and inspired the entire team.
You'd feel he was approachable and hold you accountable all at the same time.  An underappreciated combination for a leader to possess.  He would accept nothing but his best and the best of those around him.  He helped us build a throws program that would take Tufts to its first outright NESCAC title in 22 years.
Indirectly, Curtis' infectiousness brought us walk-ons Andrew Figueroa, Youssef Maguid, and Adam Aronson.  I'd add Matt Johnson to the list too, but I'm not 100% sure if that would be true.  Regardless, all four qualified for the New England Championships and beyond in 2013.
Read into that a bit.   First, Curtis cared enough about the program to find ways to make it stronger that go beyond his own PRs.  Secondly, he helped create a culture that made people want to come…and stay.
2013 NESCACs.  Home turf.  Anyone who knows will tell you that NESCACs isn't just a marathon, it's a marathon ride on a rollercoaster with all it's ups and downs and twists and turns.  We took a major hit in the 10k that day.  Both Williams and Bates outperformed their seeds and we got out of the blocks with a stumble.
We were a different team back then.  We hadn't truly evolved to take a punch and keep coming.  But we did that day.  Dejected, the majority of the team made their way over to the hammer circle where we were also underperforming.  But with final throws of trials, we put our third and fourth into finals.  It was the shot in the arm that the team needed.  Two of those would be walk ons Andre Figueroa and Adam Aronson.  Yancy would grab 3rd. Just like he would in the shot and discus that day.  A monster 18 points.
In the end, I watched Curtis grow up.  He went from being someone I wouldn't trust with sending a responsible email to someone that I'd hand over the entire squad to if needed.  He was a gamer and a great role model for those around him.  He helped pilot in a new era in the program where each individual was willing to sacrifice a bit more for the good of the team.
I'd like to thank Curtis for coming out for day 1, oh so many days ago, but he doesn't deserve that recognition.   I'd should thank my HS and college coaches for giving me the ability to dunk with ease.  That gave us Alex Gresham and, ultimately, it was Alex who dragged Curtis to his first day of track practice. (Inside joke, sorry)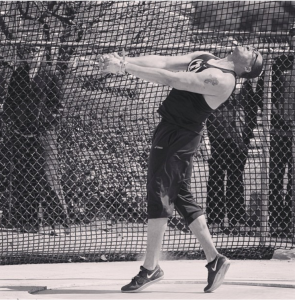 That being said, I do thank Curtis for his endless dedication.  Especially, his jovial inanity that constantly reminds us not to take it too seriously and to enjoy the process.  His absolute refusal to let me power clean more than him.  His strong will and kind heart.  Thanks for knowing exactly when to be strong and rigid and when to kick back and play.  You'll be a great father and role model some day because of that.  Thanks for everything Curtis.
Filed in Uncategorized | No responses yet